Industry-Leading Pressure Washing Equipment
Power Cleaning Systems is a proud retailer of a wide selection of commercial pressure washing equipment and power washing supplies from manufacturers with proven track records of cost-effectiveness, reliability and quality. Our pressure washer supply store locations in Michigan and Ohio feature pressure washer units, pressure pumps, floor care, space heaters, hose reels and many more related accessories to serve your industrial cleaning needs. Explore the brands we sell and service below!
Need Replacement Parts or Accessories for a Brand We Sell?
We have them! Click below to shop our wide selection of pressure washer parts and accessories from brands you trust.
Shop Now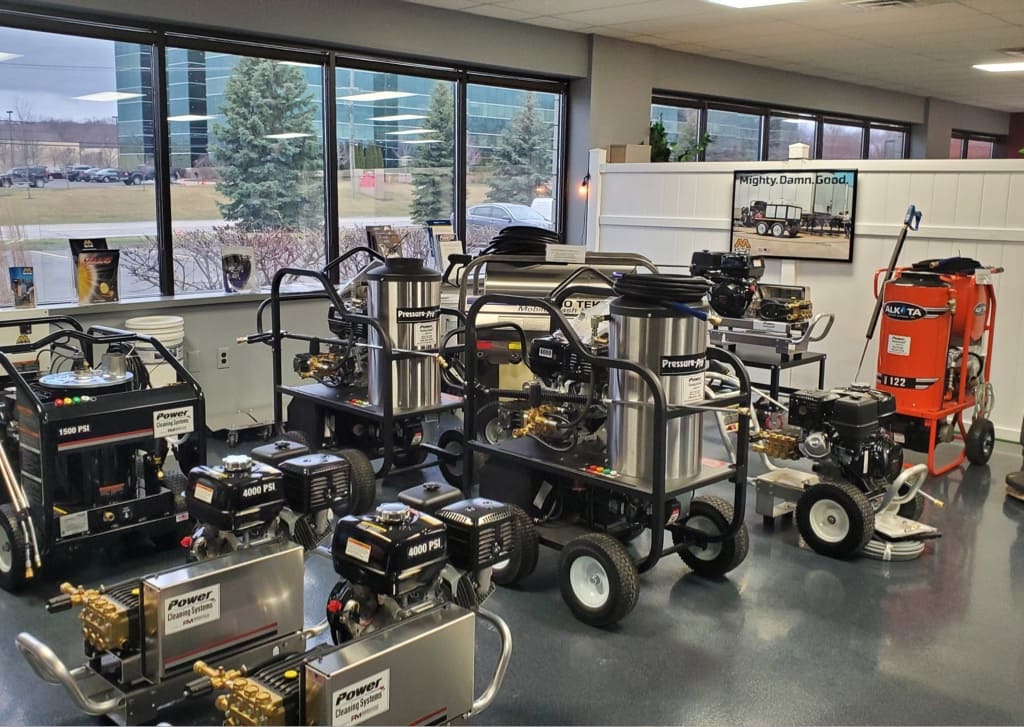 Brands We Sell
See Our Brands:
Pressure Washers
Pressure Pumps
Floor Care
Space Heaters
Hose Reel
Accessories
Brands We Service
PRESSURE WASHing Equipment BRANDS WE SELL:
Regardless of your application, budget or other needs, Power Cleaning Systems can match you with the perfect industrial-grade pressure washer for the job. Our range of pressure washing equipment includes hot water/cold water, gas/electric, and stationary/portable. We stock the brands below, or we can engineer a custom-built pressure washing package or trailer-mounted pressure washing rig tailored to your exact requirements.
AALADIN
ALKOTA
ALL-AMERICAN
ELECTRO MAGIC
EPPS
HYDRO TEK
MI-T-M
PRESSURE PRO
WHITCO
PRESSURE Pump BRANDS WE SELL:
The right pressure pump is critical in powering the proper acceleration of water required for your application. If you want your power washer to deliver the thorough cleaning results you expect, we can help. Power Cleaning Systems stocks a wide selection of rotary and reciprocating pressure pumps and can help identify the appropriate type for your needs from the trusted brands below.
Annovi Reverberi (AR)
Comet
Giant
Floor Care BRANDS WE SELL:
The floors in commercial buildings endure daily abuse, and as such, require regular care to preserve their appearance and lifespan. Power Cleaning Systems carries a great selection of floor care equipment including polishers, burnishers, extractors, vacuum sweepers, automatic scrubbers and more, to maintain any type of flooring from carpet and tile to hardwood and polished concrete. We also offer surface cleaners that easily attach to any pressure washer unit for the same purpose.
Space Heater BRANDS WE SELL:
When the temperature plummets during cold weather months, productivity decreases and risk to employee health increases. Power Cleaning Systems has the industrial space heaters you need to provide warmth to outdoor and indoor job sites to mitigate these risks. Our space heaters utilize radiant heat, which efficiently distributes warmth without moving the ambient air, much like sunlight. This makes radiant space heaters more cost-effective as no heat is lost in circulation, and safer to use in terms of air quality since they don't agitate dust.
Hose Reel BRANDS WE SELL:
Our hose reels ensure the proper storage of pressure washer hoses to prevent damage like cracking and splitting that could result in hindered operation or costly replacements. They also lessen the chance of hose kinks that can interrupt water flow while in use. Power Cleaning Systems is proud to stock a wide selection of heavy duty, American-made hose reels in several varieties including spring driven reels, hand crank reels and motorized reels.
cox reels
summit Hose reels
Accessory Brands We Sell:
Power Cleaning Systems offers an extensive inventory of pressure washer accessories and attachments that extend the functionality of your unit to facilitate better cleaning for various applications. Our accessories include piston and valve kits, couplers, plugs, sprayers, wands, mounts, boom poles, trigger guns, water brooms, nozzles and more.
Brands We Service
To help you maintain your power washer investment, Power Cleaning Systems offers routine/seasonal maintenance and repair services for every pressure washer and cleaning equipment brand we carry - and even those we don't! Our team of skilled technicians are trained and qualified to service your unit, including multipoint inspections, part replacement, accessory installation, winterization and more.
aaladin
all-american
alkota
alto
be
CUDA
DELCO
ELECTRO MAGIC
EPPS
EXCELL
FARLEY
HOTSY
HYDRO TEK
KARCHER
KEW
LANDA
LARGO
MI-T-M
MYTEE
NORTHSTAR
PREMIER
PRESSURE PRO
SHARK
SIMPSON
TORNADO
TUFF
WATERMAZE
WHITCO